This flavorful and tender Instant Pot Pork Tenderloin is ready in under an hour! It's made with potatoes and the most delicious gravy.
If you're looking for an Instant Pot Pork Loin recipe that is savory, kid-friendly, and will serve a crowd. You've come to the right place.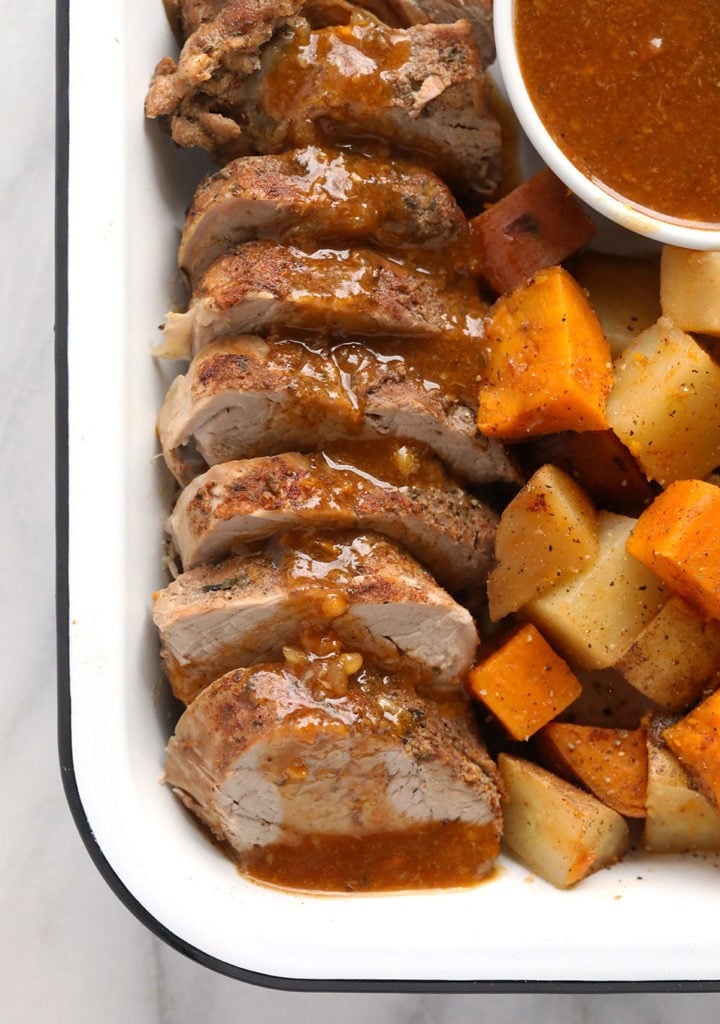 BEST Pork Loin Instant Pot Recipe
There is nothing better than comfort food home-cookin'. This pork tenderloin Instant Pot recipe is not dry and stringy like other pork tenderloin recipes that you grew up eating. It has so much flavor and tenderness that you'll want to make it every week.
You all loved our Instant Pot Pork Roast recipe so much that we wanted to make another Instant Pot pork dish just to mix things up. This Instant Pot Pork Tenderloin recipe is tender, juicy, and so easy to make. Let's hop to it.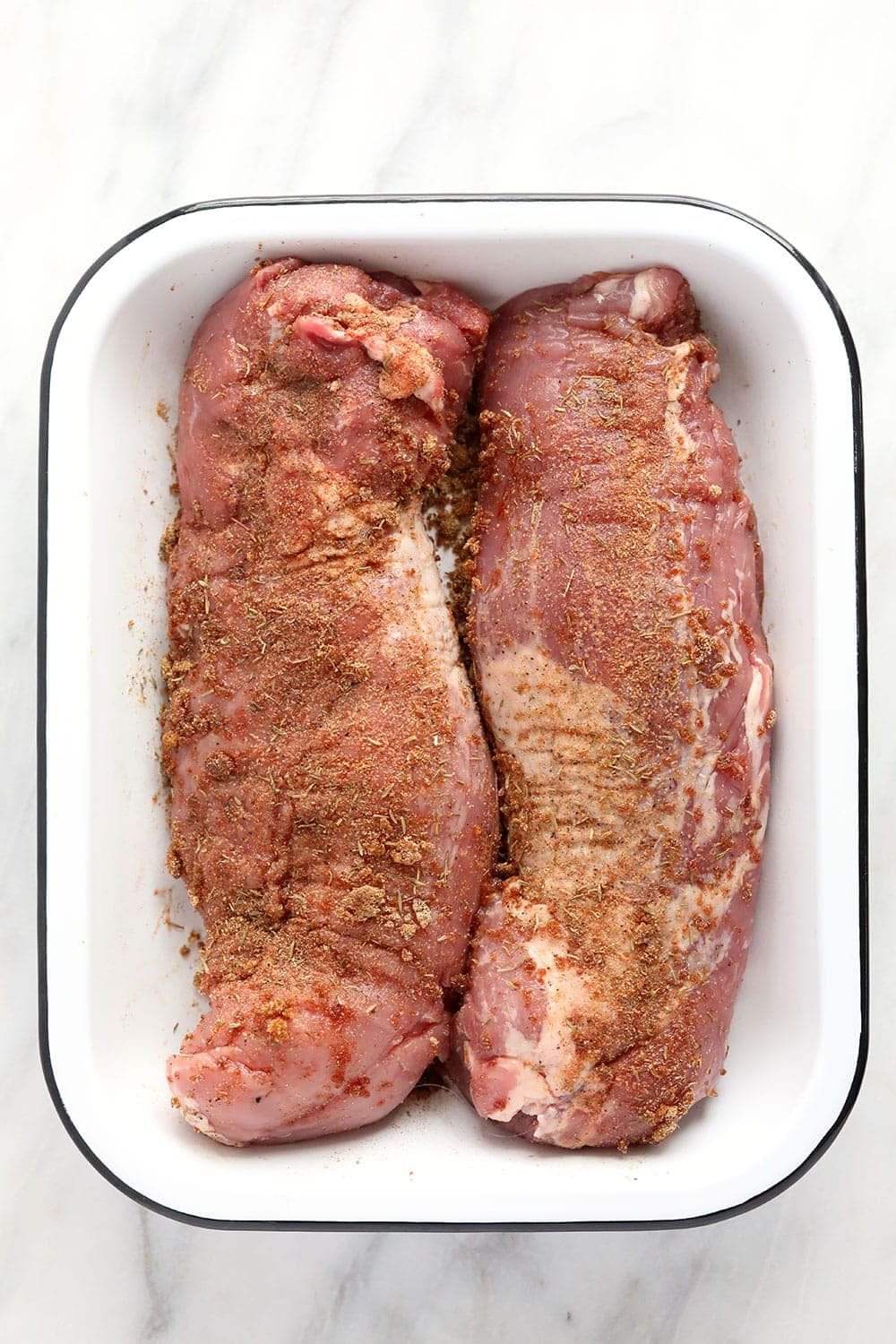 What Part of the Pig: Tenderloin
Let's chat about pork tenderloin. There are so many different cuts of meat out there. Especially when we're talking about a pig.
What part of the pig does tenderloin come from?
Pork tenderloin is found tucked underneath the backbone of a pig.
What is the difference between pork tenderloin and a pork loin roast?
Pork Tenderloin is usually about 2-3 inches in diameter and is longer and more slender than a loin roast. It is known for its tenderness because it is so well protected behind the pig's spine and (if cooked correctly) can be so incredibly tender!
When purchasing pork tenderloin, sometimes the tenderloin is sold with two tenderloins, so be cautious of that when looking for a certain weight.
Pork Loin Roast is a larger cut of meat that runs along the spine of a pig and continues down the pig's leg. The pork loin roast is about 5-6 inches in diameter and looks more like a roast. In the grocery store, a pork loin roast is often referred to as a top loin roast!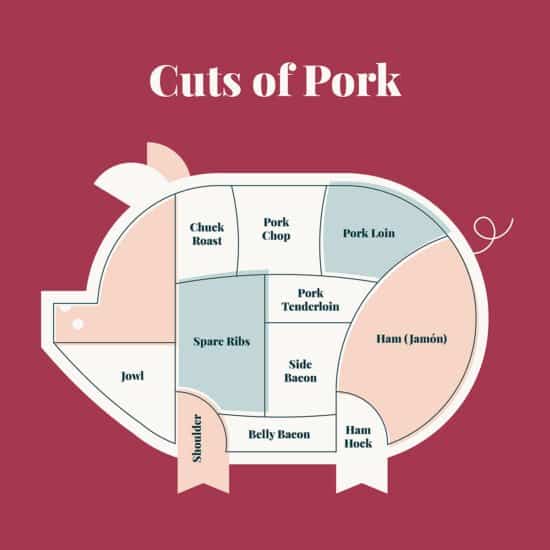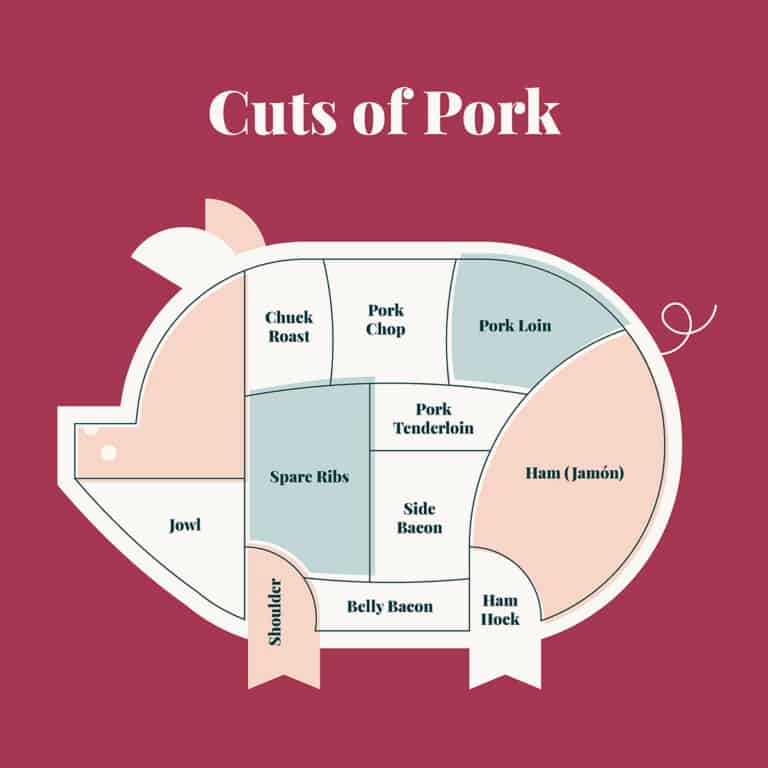 How to Make Instant Pot Pork Tenderloin
In this section, we are going to break down how to make Instant Pot Pork Tenderloin. If you're new to pressure cooking, no fear…it's not as scary as it looks. Let's get started!
Step 1: Season the Pork Tenderloin
There are a few different ways you can flavor pork tenderloin, but the most important thing to remember is to use salt! Seasoning a tenderloin with enough salt helps to tenderize the meat and get the juices flowing! 
We used the BEST dry rub for pork to season this pork tenderloin. It is the perfect spice rub for pork because it has a delicious combination of salty, savory, and sweet spices.
Massage the dry rub all over the tenderloin and let is sit for at least 30 minutes. The longer your meat sits in the dry rub the more tender and flavorful it will be. We like to let it sit in the dry rub overnight if there's time.
STeP 2: Sear the Tenderloin
Another way to get the juices flowing in the meat and to add a yummy caramelized flavor is to sear the pork loin in Instant Pot before pressure cooking it.
To sear the tenderloin, heat your Instant Pot using the sauté feature and add oil. When the oil is fragrant, add each tenderloin to the pot and sear for 2-3 minutes on each side. You want a caramelized crust to form on the tenderloin.
don't skip this step
It really adds a ton of flavor to the pork AND the amazing gravy you'll prepare at the end of the recipe!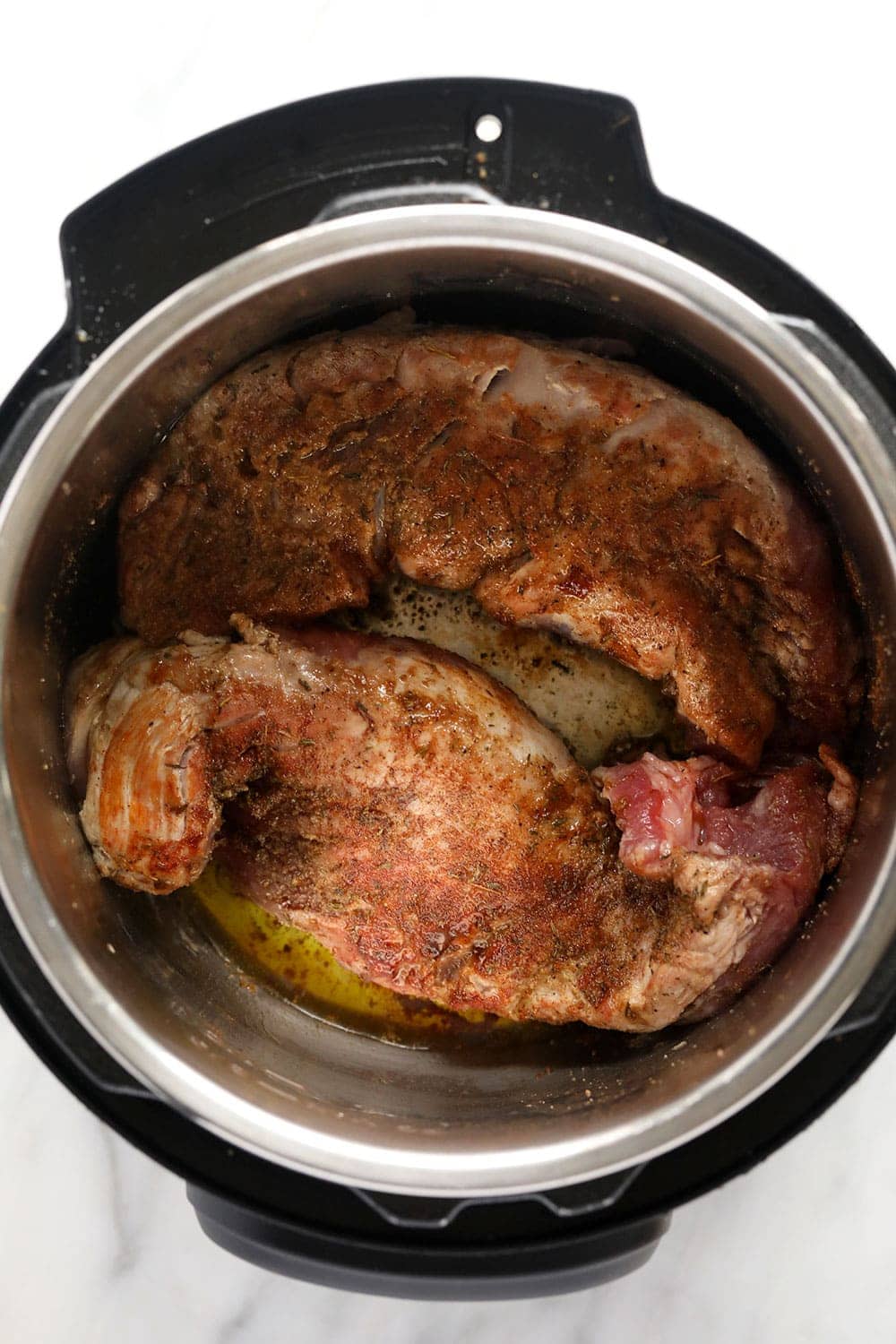 STEP 3: Cooking Pork Tenderloin in Instant Pot
After searing the meat, deglaze the Instant Pot with chicken broth and scrape the little brown chunks from the pot and add the garlic and white onion (all these ingredients will be the base for your gravy).
Cover the Instant Pot and cook on high pressure for 15-19 (see below for timing based on if and what potatoes you use!).
The cooking time may vary by Instant Pot and pork tenderloin, but should be around the same amount of time.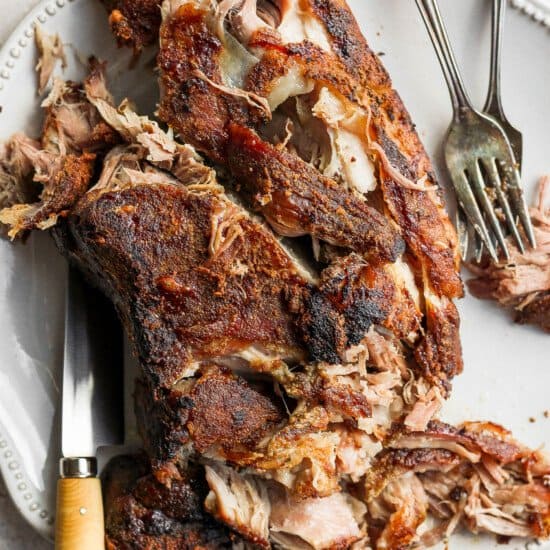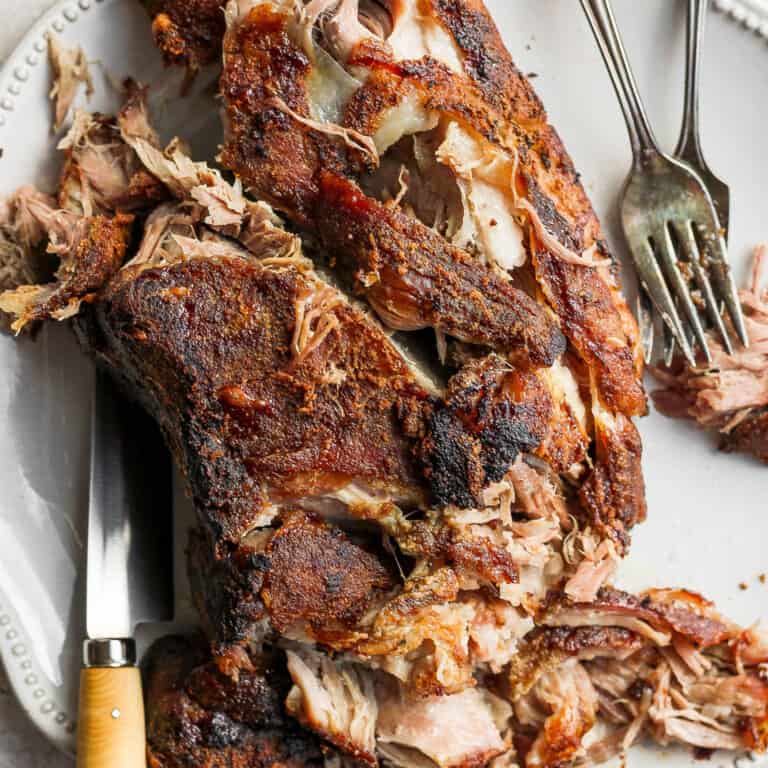 Slow Roasted
Pork Shoulder
The best pork shoulder recipes are cooked low and slow. If you are looking for another pork recipe, check out this delicious pork recipe.
Make It
STEP 4: Don't Forget the Vegetables
When we use the Instant Pot to cook meals, we like to make it a whole meal. So what is a meal without veggies?
We paired this Instant Pot pork tenderloin with potatoes because you just can't go wrong with potatoes. All you have to do is chop the potatoes and toss them in a little chili powder and garlic powder. We tested both russet potatoes and sweet potatoes and here's what we found:
sweet potatoes cook faster and only need about 2 minutes.
russet potatoes don't soften as fast and will need to cook for around 4 minutes.
potato timing
Sweet Potatoes
If you use sweet potatoes, cook the pork tenderloin for 17 minutes and then add the sweet potatoes and cook for an additional 2 minutes.
Russet Potatoes
If you're using russet potatoes, cook the pork tenderloin for 15 minutes and then add russet potatoes and cook for an additional 4 minutes.
If you decide to use no potatoes at all, simply cook the pork tenderloin for a full 19 minutes!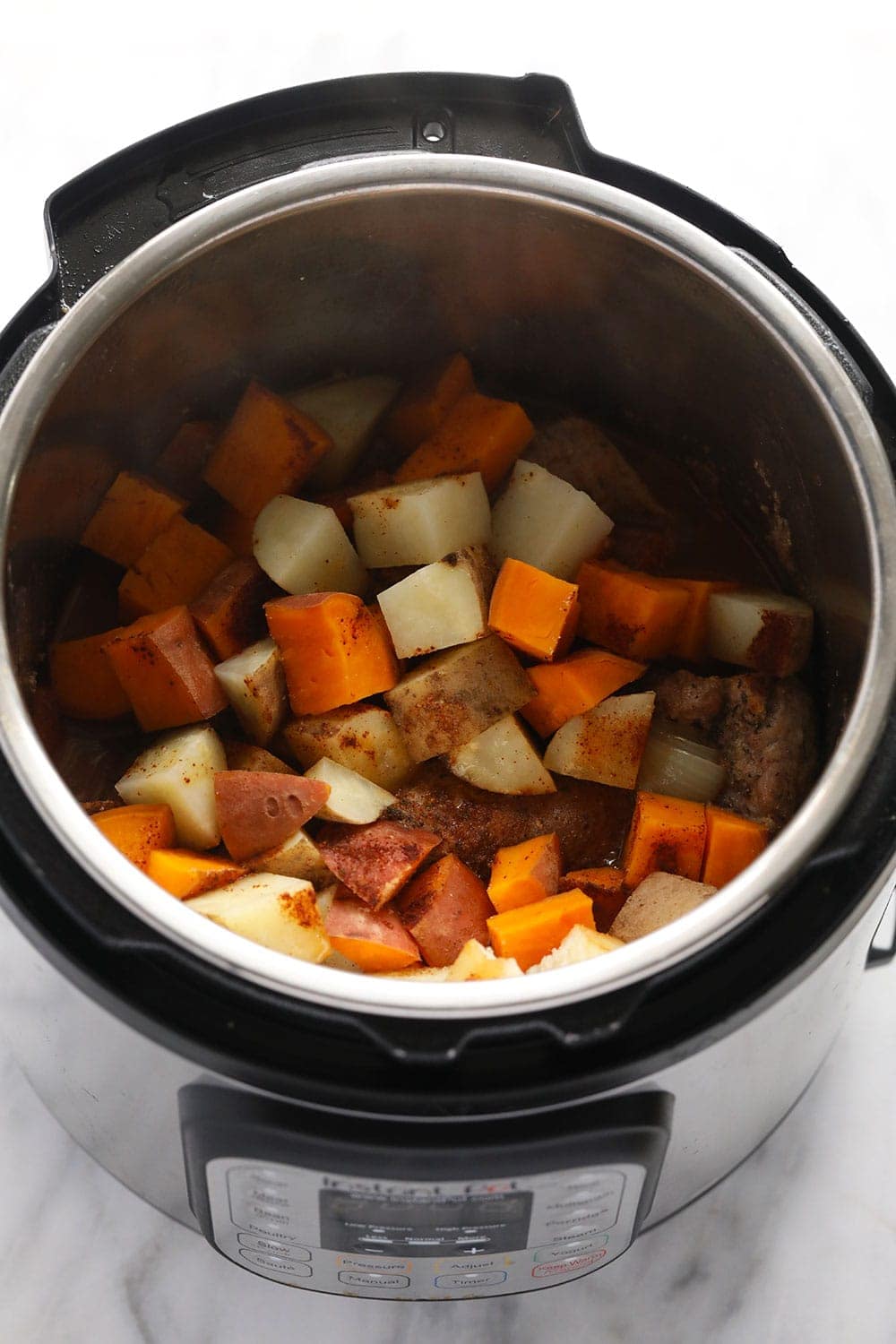 The Gravy is OUT OF THIS WORLD
What makes this the best pork tenderloin Instant Pot recipe? THE GRAVY.
After your pork and potatoes are cooked to perfection remove them from your pressure cooker and prepare the gravy! It's similar to our Slow Cooker Pork Roast gravy and I know you'll love it.
You guys, this gravy is AMAZING. It's savory and slightly sweet and has just the right amount of salt. To prepare it, turn the sauté function on the Instant Pot and whisk in the Worcestershire sauce and then continue whisking in the cornstarch.
The heat is from the saute feature is what activates the cornstarch to thicken, so keep un whisking until it bubbles!
Remove gravy from the heat and serve it over the pork and potatoes!
Storage
Store pork tenderloin in an airtight container in the refrigerator for up to 3-5 days.
Pork Tenderloin Leftovers
There are so many delicious ways you can use left over pork tenderloin! Check out some of our favorite ways below.
Make a pork sandwich. Slice the pork tenderloin up and have it on a sandwich with your favorite cheese, mayo, and other sandwich fixings.
Add it to a salad. Chop the leftover pork tenderloin up into chunks and serve it over greens or lettuce like romaine.
Make it into a stir fry. Heat up a pan and sauté carrots, snow peas, fresh ginger, and onion. Add a tsp or 2 of soy sauce to taste and then add chopped-up pork tenderloin. Cook until warm and then serve over rice.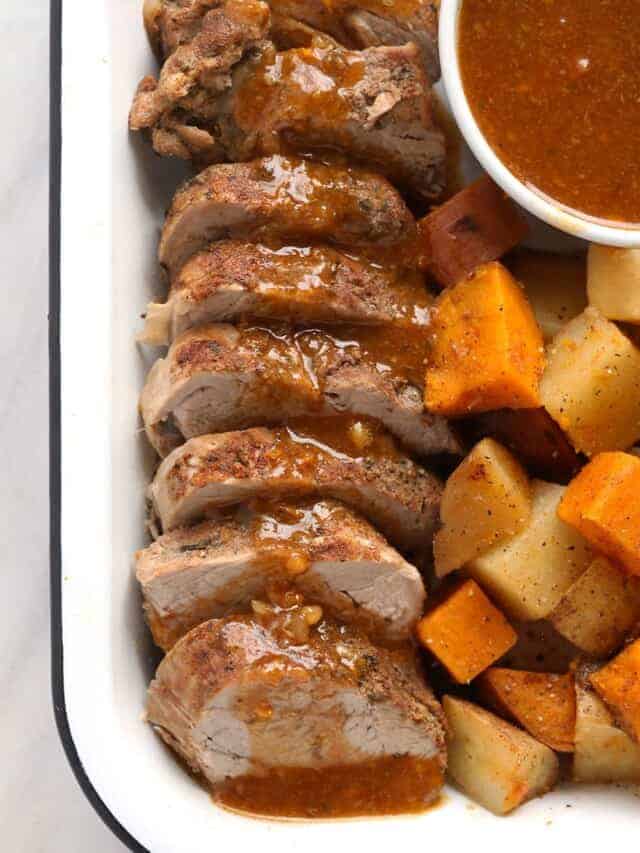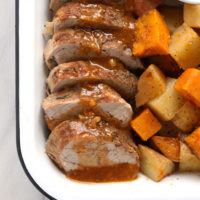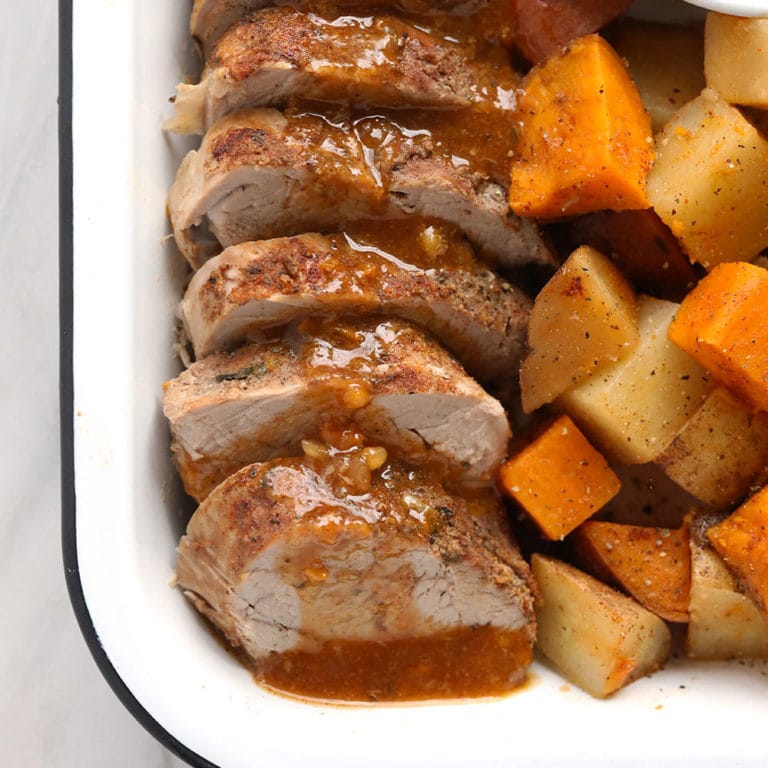 Instant Pot Pork Tenderloin
This flavorful and tender Instant Pot Pork Tenderloin is ready in under an hour! It is the perfect easy dinner recipe that the whole family will enjoy.
Prep:45 minutes
Cook:19 minutes
Total:1 hour 4 minutes
Fat 12
Carbs 15
Protein 48
Ingredients
3

lb.

pork tenderloin

will likely come in a package of 2 1.5-lb. tenderloins

1.5

tablespoons

brown sugar

2

teaspoons

garlic powder

1/2

teaspoon

onion powder

1/2

teaspoon

salt

1/4

teaspoon

ground cinnamon

1/2

teaspoon

dried thyme

1/4

teaspoon

pepper

2

tablespoons

olive oil

1/2

cup

chicken broth

any kind

1

medium white onion

chopped

4

cloves

garlic

peeled and smashed

2

large potatoes

we used 1 russet and 1 sweet*

1

teaspoon

garlic powder

1

teaspoon

chili powder

1

tablespoon

Worcestershire sauce

1

tablespoon

cornstarch
Instructions 
First, place pork tenderloins on a large baking sheet. Your 3 lb. package should come with 2 pork tenderloins and this is perfect!

Prepare dry rub by combining brown sugar, garlic powder, onion powder, salt, ground cinnamon, dried thyme, and pepper. Sprinkle dry rub on top of pork tenderloin, making sure all sides are generously covered. Use your hands to rub it in.

Next, add two tablespoons of olive oil to your Instant Pot and turn on the saute feature. When the olive oil is fragrant, sear pork tenderloins on both sides for around 3 minutes per side, giving the outsides a nice brown color.

Turn off the saute feature and deglaze the bottom of your Instant Pot by pouring chicken broth on top of pork and using a wooden spoon to remove the brown bits from the bottom of the pot. Add chopped white onion and garlic cloves to the pot and put the cover on.

Turn the valve to seal and turn you Instant Pot to manual > high > and turn the timer to 15 minutes if you're using russet potatoes and 17 minutes if you're using sweet potatoes. It will take your Instant Pot 10-15 minutes to build up enough pressure before it starts to count down.

While your pork is cooking in the Instant Pot, prepare potatoes. Dice 2 large potatoes into 1.5-inch chunks and lightly season with garlic powder and chili powder. Set aside.

Once the timer goes off, quick-release your Instant Pot by opening the vent to let the steam pour out. Remove the lid from your Instant Pot and add the seasoned potatoes right on top of your pork tenderloins.

Close the Instant Pot and turn the valve to seal. Set the Instant Pot to manual > high > and turn the timer to 2 minutes for sweet potatoes and 4 minutes for russet potatoes. Or, you can start with 2 minutes and go from there. Again, the Instant Pot will take some time to build pressure, but eventually it will count down from 2 minutes.

Once the timer goes off a second time, quick release again by opening the vent to let the steam pour out. Open the Instant Pot and test the potatoes. Make sure they are easy to pierce with a fork, and if they are not, put them back in for 1-2 more minutes. Remove potatoes and pork tenderloins from the Instant Pot, leaving the gravy and onions.

Turn the saute feature back on and then add Worcestershire sauce and cornstarch to the Instant Pot. Whisk for a few minutes or until the cornstarch activates and the gravy thickens.

Slice pork tenderloin and serve with gravy and potatoes.
Tips & Notes
Pork rub: option to use 2-3 tablespoons of our homemade pork dry rub if you have it in your cabinet!
Potatoes: if you are skipping the potato part of this recipe, cook your pork tenderloin on high for 19 minutes with a quick-release. Then follow step 10 to make the gravy.
Nutrition facts
Calories: 347kcal Carbohydrates: 15g Protein: 48g Fat: 12g Fiber: 1g Sugar: 2g
Photography: photos taken in this post are by Erin from The Wooden Skillet.